Blog
Engagement Ring Diamond Setting Styles Explained
By Maury Kaufmann
5/18/2020 at 12:41 PM
Did you know, the number one call or message I receive is about buying an engagement ring?   As Tucson's only private jeweler and a top destination for buying engagement rings, my Tucson jewelry store sells diamond rings daily.  This is because I highly personalize engagement ring shopping and make the process fast, simple and fun.  To learn more, please watch my two minute video here. My extension collection of diamonds are here.
There are so many different engagement rings styles and diamond settings it can be confusing.  So I've written this 3-part blog series to explain and detail the differences.  The "setting" of an engagement ring, refers to the way that the diamond(s) or gemstone stone(s) are held in place. Each setting creates a unique look. Let's discover the one that's perfect for you.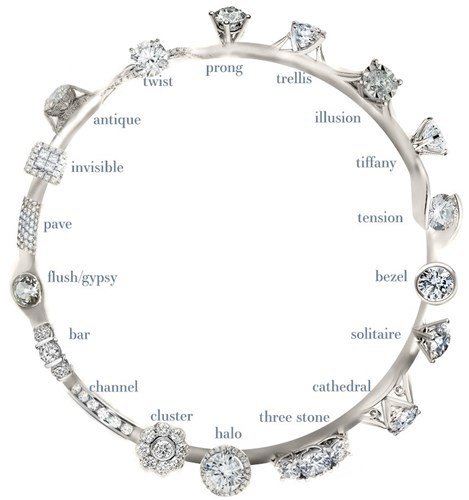 Prong
A prong setting is the most recognizable and classic of all settings for engagement rings. Elegant and timeless, a prong set holds the ring on several edges. Prong settings come in a four or six prong arrangements to allow for a secure setting that easily allows light to travel through it. The prong setting looks like a basket with claws that holds the diamond safely inside it. In fact prong settings can come in different styles such as the 'basket' which holds a diamond on its corners or as a 'peg head' prong setting which holds a circular diamond on its north, east, south and west sides.  Prongs hold the diamond or stone in place, perching on the edge of the ring in a subtle manner. Of course the more prongs there are, the more secure the diamond is held.  However a diamond with six prongs will not show the fire and brilliance and sparkle as brightly as one with only four.
Usually, the prong setting is the one you have in mind when you think of how most stones are held in an engagement ring, whether it is a cluster, solitaire or 3-stone style. It is a popular choice that provides peace of mind as to the security of your diamond.
Trellis
A trellis setting is really a sub-category of the prong setting because it's a simple variation on this popular style. For a trellis ring, there are four prongs which interweave in order to hold the central diamond. These prongs cross over one another to create a secure and elegant setting that keeps your stones well protected.
Often a trellis setting is embellished with additional diamonds or fine metal work like filigree. Trellis settings can be even more elaborate and can work very nicely with rings where there are multiple stones to hold in place. The effect is vintage, beautiful and classic.
Illusion
An illusion setting is, like its name suggests, a way to create the illusion of having a bigger diamond. This is achieved by having a ring of metal around the girdle of the diamond. The shape of the ring mimics the outline of the stone which in turn causes the stone to look a lot larger than it actually is. This is a clever way to make your budget go a little further, and
Tiffany
The Tiffany style setting is exclusive to Tiffany & Co. and is a twist on the prong setting. Before the invention of the Tiffany Setting many diamonds were set in a bezel.  Thus Tiffany innovated to create a setting that would allow more light to enter the diamond and so a enhanced the  ability to see more of the fire and brilliance and sparkle of a diamond. Designed in 1886, the Tiffany setting revolutionized the way diamonds could be mounted so that they could shine brighter and better than ever before.  Quite elegant, the unique positioning of the prongs allows the maximum amount of light to travel through the diamond. It is also highly secure.
Tension
A tension setting ring refers to a ring that holds a diamond or stone in place using the metal bands of the ring itself.  Quite unusual, a tension setting can look as if the diamond appears to be floating, held in place only by the precision of the metal bands. This style is often seen as a modern take on the engagement ring as it is a new technique. It allows for a lot of light to travel through the diamond which means it can look incredibly brilliant. 
This style of ring is unusual and also expensive as the bands have to be the exact right size to match the size of the stone. This means some disadvantages can be that increasing or reducing the size of the ring can become very costly.
Would you like to see and try on any of these styles in the privacy and comfort of my office?  Please schedule an appointment to meet with me.  And stay tuned for next month's blog where I'll highlight seven more diamond engagement ring setting styles. 
Return to Blog List