Blog
The History of Royal Wedding Jewelry
By Maury Kauffman
6/19/2018 at 12:45 PM
As a respected Tucson jeweler with one of Tucson's top jewelry stores and an A+ from the Tucson Better Business Bureau (BBB) I'm often asked about celebrity diamond and gemstone engagement rings and wedding jewelry. With Meghan Markle wedding to Prince Harry, let's take a brief look at the British Royal Family's recent wedding and jewelry.
In 1923, Elizabeth, Queen Consort to King George VII, was gifted a kilogram of Welsh gold, from the now-closed Clogau mine in Bontddu in Wales. It has been used for every royal wedding since, to make the wedding bands for the bride and groom. Royal brides often borrow or are given heirloom jewelry on their wedding day to embrace the rich history of their new family.
Queen Elizabeth II
When then-Princess Elizabeth married Prince Phillip, Duke of Edinburgh, in 1947, the world was just starting to recover from World War II. Elizabeth, who served in the war as a driver and mechanic, had to save up her rations to buy the fabric for her dress and she borrowed all of the jewelry she wore. The two-stranded pearl necklace that graced Elizabeth's neck was actually two necklaces that are always worn together; the shorter strand strung with 46 pearls, belonged to Queen Anne, the last Stuart monarch while the longer strand with 50 pearls belonged to Queen Caroline, Queen Consort to King George II. She wore an elegant platinum engagement ring set with diamonds from her mother-in-law's, Princess Alice of Battenberg, personal collection. Finally, the tiara that famously snapped the day of the wedding and was fixed in the nick of time by the court jeweler, was the Queen Mary Fringe Tiara originally given to Queen Mary as a wedding present from her mother the great Queen Victoria in 1893.
Princess Diana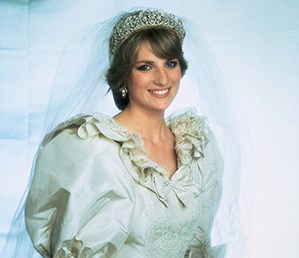 Princess Diana set a new standard for royal wedding jewelry with her extravagant marriage to Prince Charles at St. Paul's Cathedral in 1981. Millions of people all over the world watched as Diana gracefully glided down the long aisle of St. Paul's Cathedral in her ivory silk gown with its record-breaking 25-foot long train. To accent her gown she wore the now-iconic sapphire engagement ring given to her by Prince Charles, accompanied by the band of welsh gold. To top off her ensemble, she wore a Spencer heirloom tiara worn by her mother and grandmother on their wedding days.
Kate Middleton
Kate Middleton became a worldwide fashion sensation after her wedding to William in 2011. Her dress, designed by Sarah Burton of Alexander McQueen, was heavily embroidered; therefore she kept her jewelry relatively simple. On the day of the wedding, she wore the sapphire engagement ring given to her by William that had once belonged to his mother, Diana. The tiara that secured her veil was lent to her by Queen Elizabeth and was originally given to the Queen's mother by King George VI.
Meghan Markle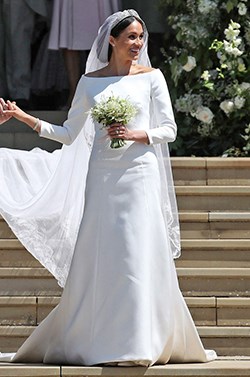 As of May 19, 2018, Meghan Markle is now Her Royal Highness The Duchess of Sussex. There was speculation that Harry would give Meghan one of Diana's rings for their engagement. Instead, he opted to design a new ring using diamonds from his mother's collection, sparking a firestorm of fascination for three-stone engagement rings. Meghan wore a borrowed tiara from Queen Elizabeth, also known as the Queen Mary tiara. And as a wedding day gift, Harry also gave his new bride his mother's Asprey aquamarine ring, an emerald-cut aquamarine surrounded by small diamonds that sits in 24-karat gold.
Now, if yours isn't a "royals-size" budget, well you're in good company. Together we can design similar, yet more affordable engagement rings and wedding bands. To learn more, please watch my two minute video here
Thousands of your Foothills and Tucson neighbors have viewed some of my bridal designs displayed on my custom designs page. You can browse at other Tucson jewelry stores but certainly make an appointment to met with me. I'm a Tucson jeweler you can trust for diamond and bridal jewelry and of course jewelry repairs of all types.
Return to Blog List