Earring Selections
Earrings Buying Guide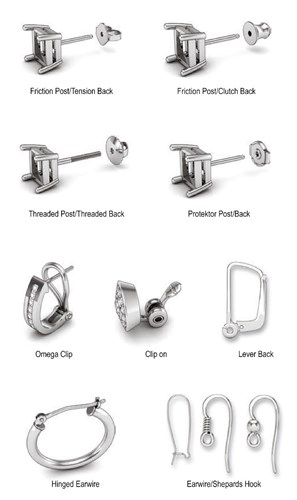 Romeo described his Juliet as a "rich jewel that graced the cheek of the night like an earring sweeping the cheek of a soft cheeked beauty." Whether they dangle dramatically against the face or nestle demurely at the earlobe, earrings provide a bright counterpoint to the changing melody of an expressive face. One of the most ancient of jewels, earrings have transformed repeatedly over the centuries in response to fashion and fancy.
Earrings make the perfect gift because they are always the right fit. The most basic jewelry wardrobe piece, a woman may leave the house without a bracelet, but she's always wearing her earrings. Most earring styles go with everything, adding style to anything she wears. The wide variety of earring types, sizes, and prices makes it easy to find the perfect pair for yourself or for a gift. A gift she'll remember you, every time she wears them.
Did you know, the second most requested piece of jewelry (after an engagement ring) is diamond stud earrings? Most earrings are made in gold or platinum and are set with diamonds or precious gemstones like ruby, emerald or sapphire or birthstones, and of course, in every combination you can imagine. Please come see them at my Tucson jewelry store.