Blog
On Maury Kauffman Private Jeweler (MKPJ)
By Maury Kauffman
3/14/2022 at 9:16 AM
You know I'm Tucson's number one store for diamond engagement rings and gold and ruby, emerald and sapphire jewelry.  Here's a bit more about me, things you probably did not know:
I have sold engagement rings set with: ruby, emerald, sapphire, Moissanite, amethyst, aquamarine, garnet, topaz, tanzanite, morganite, peridot and ametrine.
About 20% of the engagement rings and fine jewelry I sell is made from platinum.
I am asked for current designs all the time, most recently for a ring similar to what Machine Gun Kelly gave to Megan Fox. A ring that features a teardrop-shaped diamond and emerald to symbolize each of their birthstones.
I sold over 600 pairs of diamond, ruby, emerald and sapphire stud earrings in 2021.
This year I will sell pieces that are: floral inspired, have mushroom motifs, contain pearls for both women and men, are Victorian-Inspired designs, large and abstract hoops and some that contain mixed metals.  My by appointment only jewelry store offers has hundreds of designs to meet every taste, style, and budget.  You can view some of them here. To schedule an appointment to discuss your Wish List please click here.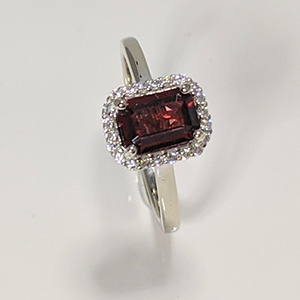 I supply color gemstones to over 500 retail jewelers in the United States!
I resized nearly 200 rings last year and repaired nearly 500 pieces of jewelry. I updated, repurposed and redesigned nearly 250 pieces of fine jewelry last year.
I bought over $250,000 worth of old gold and no longer loved jewelry from sellers in Tucson and all over the country. Much of it is recycled helping the environment and the green economy.
I can present diamonds and color gemstones in every size, shape, weight, budget range and color of the rainbow.
I have over 50 different birthstone and Mother's rings designs and can set as many gemstones as are needed. I also have birthstone pendants, necklaces, bracelets, and earrings.
Besides rings, earrings, bracelets and necklaces and pendants, I have also sold: anklets, toes rings and pet collars. Unfortunately, I do not sell teeth grillzs or hip-hop fashion jewelry.
I have attended gemological school for over a decade and am now only two classes shy of earning a Graduate Gemologist (GG) degree from the Gemological Institute of America.
Did you know, I custom-make over 100 pieces per year? You can learn about my pricing and process. What can I make for you?
Return to Blog List