Blog
Engagement Ring Diamond Setting Styles Explained: Part 3
By Maury Kauffman
7/16/2020 at 5:18 PM
Channel
A channel style setting is basically a ring whereby the diamonds or stones are set into a channel or groove within the band. This means that the metal of the band is exactly sized so that the tension is correct to hold the stones in place.
Elegant and refined, a channel style setting is often used in conjunction with other stones and settings, sometimes with a larger central stone in the middle, with channel set stones on the band itself. Sometimes the channel setting is suited for wedding bands where the bride wants an extra touch of glamour.
Popular for the fact the stones are secure, you can find channel settings more and more frequently in engagement rings and wedding bands.
Bar
A bar setting is designed to hold smaller stones in place. Stones are positioned in a row with metal bars in between them to hold them securely. Often bar setting engagement rings allow a bit more light into the stones than a channel setting, as there are often edges left available to catch more light.
Flush or Gypsy
Flush style settings are also known as gypsy settings and refer to diamonds or stones being held within the band itself. This means the metal has a sort of 'nest' or recess within it that is perfectly sized to hold that exact stone or diamond. This means that flush rings are very comfortable to wear as there is no risk of snagging and the diamonds are smooth against the metal.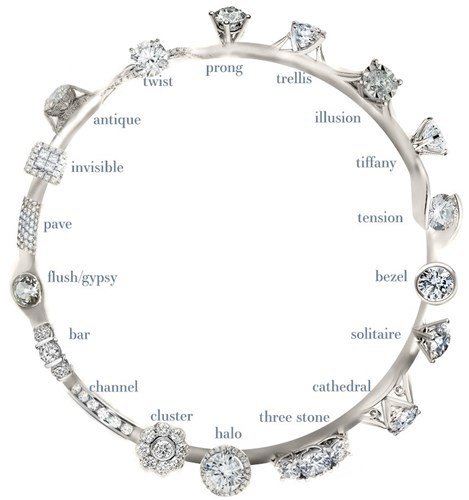 Pave
Pave is a really effective way of clustering diamonds together for a big impact. It comes from the French word, paved and it involves setting many smaller diamonds together by drilling small holes into the metal of the ring and holding them in place by securing them with a tiny droplet of metal in between each diamond. It's technical but the results can be stunning.
Smaller diamonds are used to create an impactful cluster of diamonds and in 'micro pave' even smaller diamonds are used to create a similar effect.
Invisible
Popular in the 1920s within the Art Deco movement, invisible style settings for engagement rings are often associated with vintage or antique rings, but lots of designers are doing a modern take on this setting technique.
Invisible settings position stones next to one another so that there is no seam or prong or bezel in between them. This creates a greater surface area of sparkle and glamour. The stones are in fact held securely in place via a metal structure that has been made underneath them.
However, while the stones are shown off nicely, this setting is not the most secure and there is more probability of a stone becoming loose over time.
Antique or Vintage
Antique or vintage style settings are rings which integrate stylistic features from a certain period of time. For example, Edwardian, Victorian, Art Deco – all these periods have artistic touches and flourishes or settings that are typical to that era. Whether set with filigree (a type of metal work involving small threads of metal) or set with metal beading – known as milgrain, vintage or antique style settings can be more complex and floral in style.
Modern rings can integrate vintage style features within their designs as well, drawing on refined tastes that have withstood the test of time.
Twist
A twist style engagement ring setting can resemble a number of ring styles. Most often though, it refers to a twisted band so that it creates a criss cross effect. Sometimes it can refer to a twisted version of the traditional prong setting where the 'arms' of the prongs are angled so that it resembles a twist. Other versions of a twisted setting can include two intertwining bands that 'twist' into each other for an original and quirky alternative to a traditional band. Upon this band, one or several stones can be set. A twist setting is ideal for brides who prefer a more original approach, and depending on the design a twist setting can be a very subtle way of adding a touch of difference or it can be a real statement.
Return to Blog List